BOARDING SERVICES ARE CURRENTLY UNAVAILABLE FOR CANINES

Loving Hands Animal Hospital offers boarding for both your feline and canine family members, everyday of the year! Let your pet vacation with us while you enjoy your time away! We invite you to stop by for a tour of our facility. Please contact us to make an appointment for a tour or for accommodation reservations.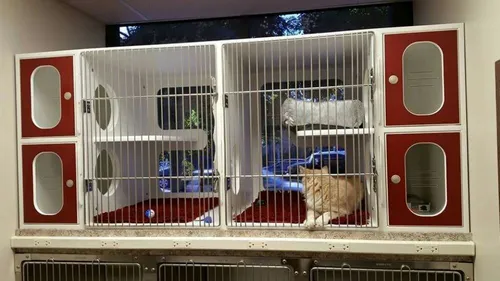 Why Choose Loving Hands Animal Hospital?
FREE Veterinary Technician Examination upon arrival

All boarding pets will receive individualized attention, exercise and playtime by our caring, experienced staff

All accommodations are air conditioned and heated
On premise and on-call veterinarian available for patient concerns while boarding
We welcome diabetic and special needs pets
We welcome pets requiring medications, injections and/ or subcutaneous fluids
Your dog will enjoy an outdoor, clean artificial grass potty area that is regularly cleaned for your dog's safety
We have a separate boarding area for cats for their enjoyment
Cat boarding area infused with Feliway for a more comforting and calming environment
Dog boarding area infused with Adaptil for a more comforting and calming environment
Boarding Requirements
We strive to be a FLEA FREE facility! We require that all boarding pets be free of fleas upon entrance. If your pet is found to have fleas, we will need to apply a dose during your pet's visit to protect your pet and to ensure our facility stays as FLEA FREE as possible.
For your pet's best protection, the protection of our staff and the protection of other pets in our care, we do require that the following vaccinations be current upon drop off or be updated with us upon check-in:
Dogs: DAPP (Distemper/ Parvo combo), Rabies & Bordetella (given within the last six months)*
Cats: FVRCP, FELV with a negative FELV/FIV test result & Rabies*
*Proof of veterinary vaccines must be received at check-in to be admitted to the facility. If you would like our staff to retrieve this information from your veterinarian, please ask us when scheduling your appointment, we would be happy to assist you.